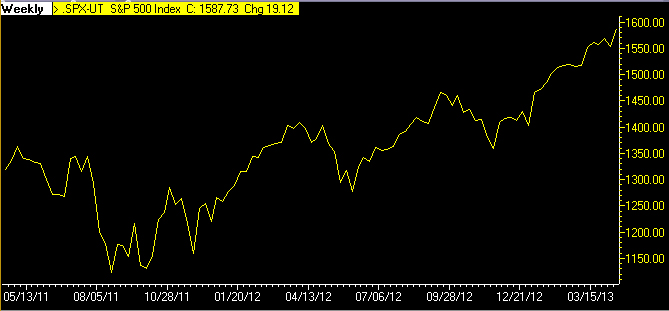 The stock market bubble: S&P 500 at all-time highs
2013    April 8th – April 14th  
In general news, North Korean nuclear threats dominated the news again, and  Margaret Thatcher died at age 87. The stock market bubble continued as the Fed pumped QE money into bonds. Louisville won the NCAA basketball tournament, and Adam Scott won the Masters golf tournament.
In healthcare business news, Eli Lilly (LLY) cut the sales force by 30% as part of a Big Pharma trend cutting back on marketing to doctors. Also, BioCryst (BCRX) was up on bird flu hype.
From the FDA, Acadia (ACAD) shares soared 65% when the agency gave what appears to be Breakthrough status to Parkinson's drug pimavanserin. Also, Pfizer (PFE) won a breakthrough classification for breast cancer drug palbociclib. Bausch&Lomb won an AdCom vote of approval for there Trulign lens device. B&L's post-cataract-surgery drug Prolensa was also approved. Merck's (MRK) Avandia is back in the news as the agency will reconvene a two-day panel to reassess the safety controversies. Lastly, Alexion (ALXN) received a 483 plant warning letter.