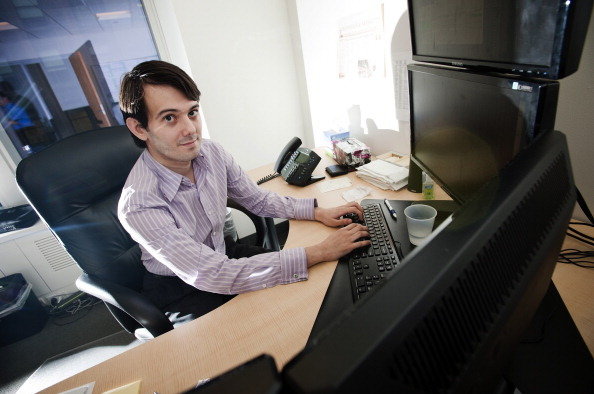 September 22, 2015- by Steven E. Greer, MD
Making national news today was Martin Shkreli, the baby-faced, greasy-haired, disheveled-looking CEO of Turing Pharmaceuticals, for price gouging on a drug, Daraprim, used to treat the rare disease of toxoplasmosis. Immunocompromised patients with AIDS contract the disease.
Daraprim (pyrimethamine) has been around for more than 60-years and treats the disease effectively at only $13.50 a pill. Then, in August of 2015, Turing Pharmaceuticals paid $55 Million to Impax Laboratories (IPXL) for the rights to the drug and jacked up the price to $750 per pill.
The Healthcare Channel was the first to report in 2009 on the business strategy of acquiring cheap generic drugs, cornering the market, then raising the price by thousands of percent. On September 20th, 2015, Andrew Pollack of the New York Times wrote about the Daraprim price hike and the TV news picked up the story. It all culminated in presidential candidates Hillary Clinton and Bernie Sanders proposing laws to curb such predatory activity.
Mr. Shkreli gave TV interviews to CNBC, CBS, and other outlets. His comments were poorly chosen, and along with his hedge fund non-tie look, made him seem to be a greedy capitalist manipulating the orphan drug laws. However, what the news failed to address at all was the scandalous business history of Mr. Shkreli. One could call him the Bernie Madoff of the drug industry.
The son of Albanian and Croatian immigrants, Mr. Shkreli skipped grades in high school and graduated from Baruch college, according to a Bloomberg expose. His first financial job was as a college intern at CNBC's Jim Cramer's hedge fund Cramer, Berkowitz & Co in the year 2000 (Mr. Cramer is laying low and not commenting about the Turing Pharma scandal).
While at Cramer's shop, Shkreli pitched an idea to short Regeneron (REGN) on the basis that their weight loss drug Axokine would fail. In 2003, the trade worked, and caused the SEC to call Cramer to investigate possible insider trading.
After Cramer, Shkreli landed jobs at UBS and Intrepid Capital. Then, in 2006, he started his own hedge fund called Elea Capital Management. This was when the legal troubles began. A bad short trade using put options failed. The broker dealer was Lehman Brothers and they sued, winning a default judgment for $2.3 Million. But Shkreli lucked out when Lehman went out of business shortly thereafter and was unable to collect the debt.
Despite the failure of his first hedge fund, Shkreli was able to start another one in 2008 called MSMB Capital Management. Still favoring his style of finding bad stocks to short, he started to take more control of the fate of his ideas by vocally deriding the equities in stock chat rooms, such as Seeking Alpha. One of his first targets was the inhaled insulin product under development by MannKind (MNKD). He went as far as writing a letter to the FDA urging them to reject the application, which the agency did. In 2011, MNKD shares fell to $2.50 as the FDA required more trials in January of 2012.
The inhaled insulin drug, now called Afrezza, was eventually approved and MNKD shares hit a high of $10.50, but the same hedge fund cabal conspired to short it again. The stock is trading at $3.24 currently.
According to Bloomberg, " In 2012 the nonprofit Citizens for Responsibility and Ethics in Washington (CREW) publicly accused Shkreli of trying to manipulate the U.S. Food and Drug Administration for financial gain…..in a letter to Preet Bharara, the U.S. attorney in Manhattan, CREW listed obscure biotech companies that Shkreli had shorted and publicly debased. In the case of yet another company, now known as Navidea Biopharmaceuticals (NAVB), he'd submitted what's known as a citizen's petition to the FDA, asking the agency in June 2011 not to approve a lymph-node mapping agent he claimed hadn't been tested properly. Navidea's stock dropped 33 percent in a month, to $3.29 on July 1, 2011. "This evidence suggests a pattern of suspicious behavior in the trading of biotech stocks that warrants a thorough investigation," CREW told Bharara."
Apparently, all of that aggressive shorting was not paying off. While still running his struggling hedge fund MSMB, Shkreli formed the specialty pharmaceutical company Retrophin with $3 Million from MSMB investors. It went public in 2011 under the ticker RTRX.
As a CEO of a publicly traded company, Shkreli had to grow up and seem to be a responsible adult. Bloomberg writes, "As a hedge fund manager, he admits, "I did sleep on the floor of my office sometimes. I didn't brush my teeth as often as I should have." Today, he continues, "I think my hygiene has improved quite a bit."
Shkreli took the company public in late 2012 by means of a "reverse merger" with an existing shell company called Desert Gateway."
Retrophin promptly raised $40 Million in a secondary offering. Infamous hedge fund titan Steve Cohen of SAC Capital was a big buyer.
In 2014, Retrophin acquired Manchester Pharmaceuticals for $63 Million and gained their first FDA-approved drug that could generate revenue, Chenodal. A commercial flop at treating gallstones, Chenodal also treats a very rare disorder disease called cerebrotendinous xanthomatosis, or CTX.
In the American healthcare system, orphan drugs like this can command astronomical prices amounting to hundreds of thousands a dollar per year per patient. Shkreli knew this well and was forming companies to exploit this pricing power.
Retrophin stock (RTRX) appreciated 230% in the first half of 2014 before losing half of those gains. Once again, Mr. Shkreli was leading a company into financial trouble. The board fired him in October of 2014. Bloomberg reported, "After a rocky few months, marked by erratic public statements from Shkreli, his board of directors at Retrophin apparently got antsy and the board abruptly fired him.".
A few months later, the genius of comeback, Shkreli somehow found the money to start yet another company. He created Turing Pharmaceutical in February of 2015. It is named it in honor of World War II code-breaker Alan Turing who was the subject of the critically acclaimed film "The Imitation Game".
According to a lawsuit filed against Shkreli in August of 2015 by Retrophin, he is being accused of stealing money from the company to pay off debtors from his old MSMB hedge fund, and to start Turing Pharma.
Forbes reported, "Alleging that he created the biotech and took it public solely to provide stock to MSMB investors when the hedge fund became insolvent. The suit seeks more than $65 million in damages and a requirement that Shkreli disgorge all the compensation he received from Retrophin during the time he acted as a "faithless servant" to it, as the claim reads. Turing Pharmaceuticals, another biotech startup that Shkreli founded this past February, is not named in the suit. Retrophin paid out over $2.7 million in cash and issued more than 590,000 shares of Retrophin stock to appease those investors, the suit alleges.".
The Series A funding for Turing seemed suspicious to biotech traders. Shkreli claimed that $90 Million was raised, but only listed himself as an investor. FierceBiotech reported, "In an uncommon move, Shkreli himself led the Series A financing, and Turing isn't naming any of its other backers, calling them "preeminent institutional equity investors" and leaving it at that. In a filing with the SEC last week, Turing counted 34 individual participants in its funding round but reported raising just $62.7 million. A spokesman for the company declined to explain the $27.3 million difference…".
U.S. Attorney Preet Bharara and the SEC failed to investigate Mr. Shkreli when they made aware of him years ago. However, with all the national attention, they might take another look. All indications are that this man is a serial fraudster failing at one company after another.
Will Martin Shkreli be the Bernie Madoff of the drug industry? Stay tuned.
But Turing Pharma and Shkreli are not one-off outliers. There is an entire industry of drug companies that do the same thing by cornering the market on forgotten drugs then jacking up prices thousands of percent. Will Turing be the final straw that will affect changes in the law?